The app that instantly connects patients or caregivers to nurses through telephone home health care.

24/7 instant access to nurses or care managers

Bypass lengthly phone queues

Connect with clinical care professionals
Accelerated Mobile Communicator
BUILT BY NURSES FOR NURSES!
52%
 more time
on CRITICAL CARE
vs INTERRUPTORS
18%
 reduction
in NURSE TURNOVER
from LESS BURN-OUT
32 SECONDS
vs 33 MINUTES 
(Industry Avg.)
Nurse response WAIT time
HCAHPS
Scores for reimbursement and Social Media Climb
(HALO EFFECT)
Cut spending on supplementary after hours phone support
by 
60%
88%
 reduction
of calls to 911
HOW DID WE GET THESE RESULTS?
Certainly not alone…
Clinical Executives and nurses from
60+ HOME HEALTH AND
HOSPICE COMPANIES
partnered with Total.Care Consulting to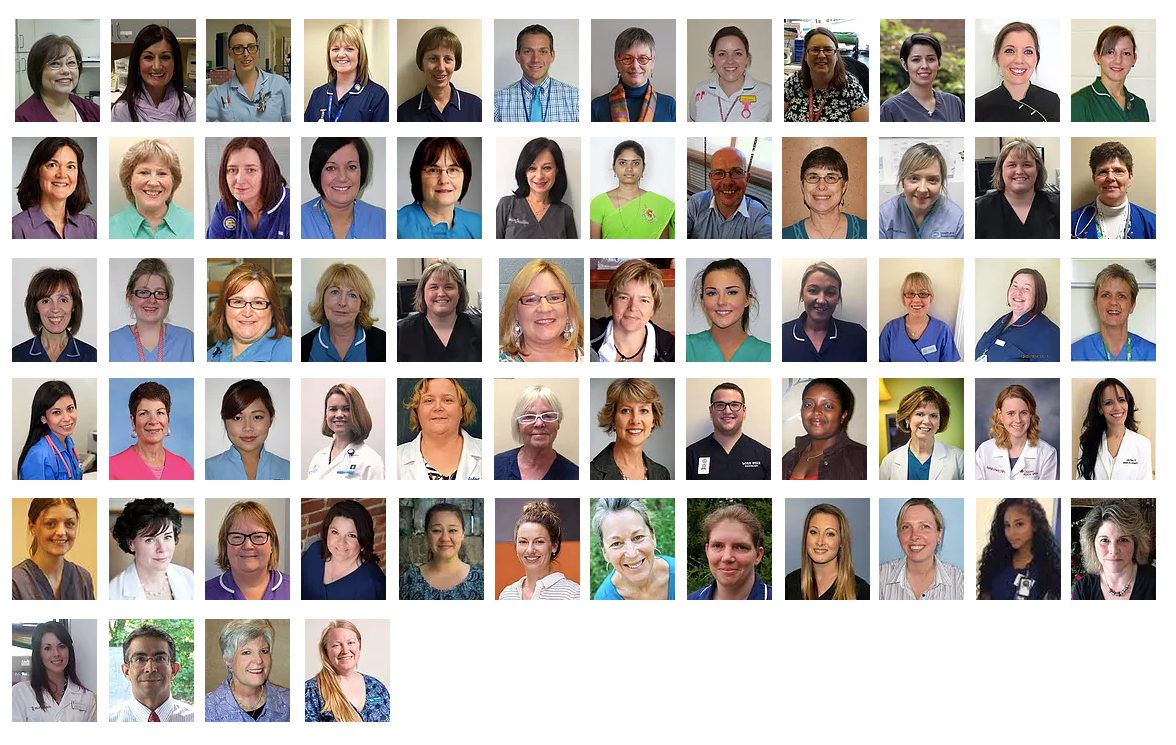 uncover the issues that caused the highest
UNNECESSARY PRESSURE ON CAREGIVERS,
NURSES, AND ORGANIZATIONS.
MAJOR PRESSURE ISSUES ON NURSES


Nurses need more personal time
Caregivers want immediate connection to the RN who can provide answers
Taxing on-call schedules
Overall job dissastisfaction

Nurses don't have enough down time to rejuvenate
After hours services cause higher level of care-giver /patient distress that RNs cope with

Not using latest technologies
Losing patients and nurses
Potential negative impact by social media and on-line survey scores

Added pressure to meet CMS quality requirements
Difficult to measure and track performance
Challenging to enforce consistency across organization

Challenge to decrease 911 calls/ER visits
Difficult to ensure maximum reimbursement
Unable to break down and track certain types of costs (cost per call)

Non-visibility to real-time patient documentation
Inconsistency with care during business hours vs. after hours

Inefficiency Overwhelmed Staff

Care delayed by calls going to staff voice mails
24/7 care pushes staff into burn-out
Unable to see what team members are doing
COMMUNICATION TECHNOLOGY FOR NURSES
THE BIG ROADBLOCK…
Nurse communication was stuck in the
1980's
Voicemail
&
Answering Services
1990's
Healthcare CRM
(EMR)
NEW COMMUNICATION TECHNOLOGY FOR NURSES
It took 3 years
of programing and reprogramming until,
directed by these 60+ Company
Clinical Executives and Nurses,
an accelerated communication platform
was proven to relieve real world pressure through a telephone home health care app.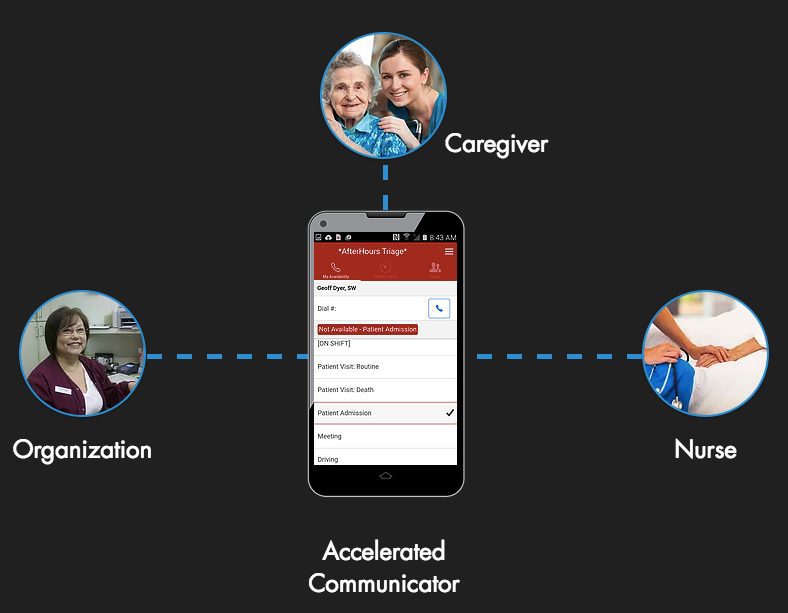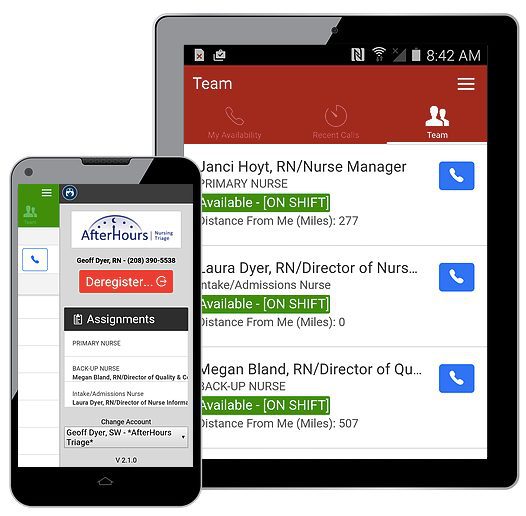 The Total Triage app is downloaded on each nurse's mobile device.
Total Triage EMR integration enables patients and caregivers to call and instantly connect with the best person to assist them.
After-hours calls are triaged and assisted by Total Triage nurses or internal by the on-call nurses.
Call recordings and key metrics offer insight into improving nurse training and protocols, as well as streamlining operations.
Basic GPS data is displayed enabling team members to more easily coordinate efforts during times of need.
When outbound calls are made, the individual cell phone number can be masked with the office number, preventing patients and care-givers from calling RNs directly when they should be off-shift.
Enable secure messaging between all team members, including Total Triage nurses.
NORMAL
NON-AUTOMATED
SYSTEMS
Caregiver (UNDER PRESSURE)
Calls Nurse
for Help / Questions
Answering Service
Agent Answers Call
After Agent has taken message from patient, the agent calls the nurses to let them know they need to call the caller back.
Agent Asks Questions
to Verify Caregiver
(UNDER MORE PRESSURE)
Information is Verified
Agent
Takes a Message then,
Hangs up with Caregiver
to Reach a Nurse
Caregiver is Now Under
EVEN MORE STRESS
WAITING FOR CALL BACK
25% of Call Transferred
to Office for Next Day
Voice Mail Pickup
75%+ of calls to answering service must be handled by the on-call nurse
Nurse On Call
Listens to Voice Mails
Nurse Calls Back
Caregiver
Caregiver Must
Re-explain Issues to Nurse
(Reinforcing Negative
Perception from Multiple Explanations Under Stress)
Nurse Burnout Pressure
Raised from Interaction
Caregiver Negative Reinforcement Lowers
HCAHPS and
Social Review Scores
Total Triage
AUTOMATED
SYSTEMS
Caregiver (UNDER PRESSURE)
Calls Nurse
for Help / Questions
Total Triage
AUTOMATICALLY Recognizes
---
Caregiver Name
Protocol Updates
Call Routed
Call Logged
Call Recorded
Staff Metrics Updated
EMR Updated
Total Triage Instantly Follows Call Routing Protocols by
Who's Available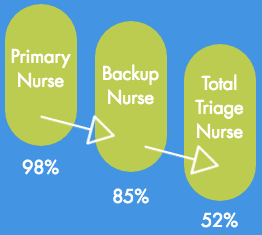 Routed by Highest Available
1st Contact Person Resolution
Caregiver Call Answered
by a Nurse Ready for
1st Contact Resolution
Nurse Interaction
Pressure Lowered
Caregiver Positive Reinforcement for Higher
HCAHPS and
Social Review Scores
WHAT OUR USERS ARE SAYING
"Whether we called during regular business hours, after hours, or on weekends, our call was immediately answered by someone who could understand our concerns, give us instruction right over the phone, and arrange for hands-on care if Dad needed it."

"I was pleased with how often they knew who we were when we called and what they knew about Mom's status. This clinical after hours call-in service made all the difference to us while we worked together during our family's difficult time."

"Total Triage is a mobile application designed to streamline communication and scheduling and our nurses can't imagine going back to life without it. Adopting new technology can be tricky, but despite the initial hesitation, within just two weeks everything changed. The results were better than any of us anticipated. Essentially, Total Triage provides a more efficient way for our nurses to connect with each other and their patients. With Total Triage specifically, we've been able to cut spending on supplementary (after hours) phone support by 60%"

Paula – Clinical Executive
SET UP A LIVE
DEMO TODAY
Tel: 888-260-8460 | Email: hello@careXM.com
3098 Executive Parkway, Suite 100 Lehi, UT 84043